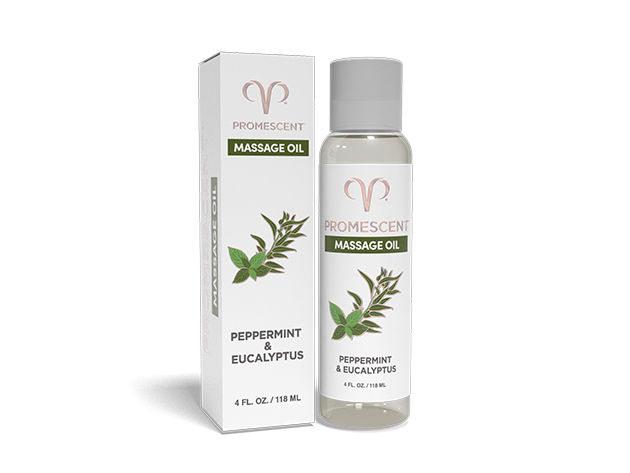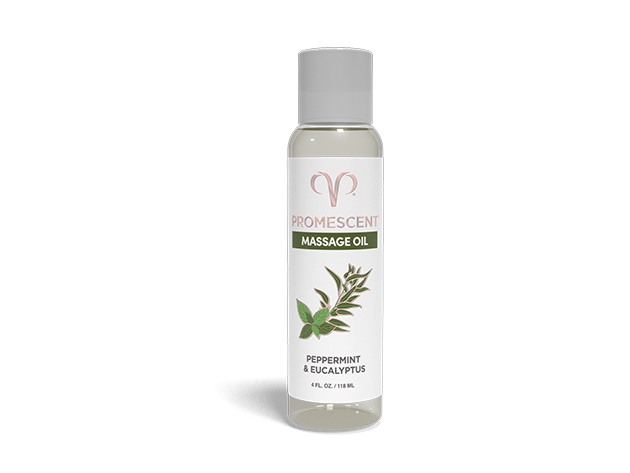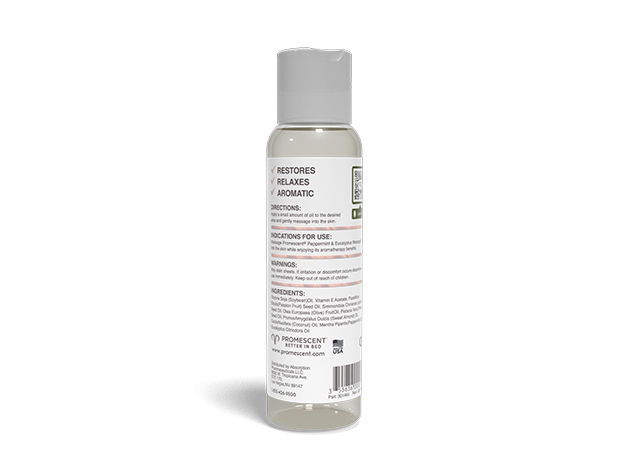 Promescent Massage Oil (Peppermint Eucalyptus)
by Promescent
Supercharge Desire, Relaxation, Serenity & Bedroom Mood with This Massage Oil's Fresh, Minty Aroma
Description
Essential oils and aromas light up your senses as you receive or give a sensual massage. Massages help to reduce stress and tension while increasing circulation, energy, and alertness. This Promescent Peppermint Eucalyptus Massage Oil is a specially crafted, body-safe oil blend that hydrates and refreshes skin. It provides pure relaxation, supercharges your senses, and prepares you and your sexual partner for a seriously arousing moment; it's the ultimate massage experience! This massage oil gives off a fresh, minty aroma with eucalyptus, peppermint, and jojoba oils, which invigorates senses.
Peppermint Eucalyptus Massage OIl
Fresh, minty aroma that invigorates senses
Promotes desire, relaxation, serenity, & mood
Contains piseucalyptus, peppermint, & jojoba oils
Specially crafted, body-safe oil blend that hydrates & refreshes the skin
Awakens your senses & provides relaxation and a deeper connection between you and your sexual partner
Privacy guaranteed; ships in discreet plain packaging with "Customer Service" as the name on the return address
Customer Reviews
""I love love love eucalyptus and when I saw the new promescent massage oils I had to try them. The consistency on the two I bought was the same, they're long lasting and a little goes a long way." – Anastasia G.
"I must say, the quality and scent of their oils are fantastic. The aroma just relaxes me so much. I highly recommend!" – Terry L.
"This product remains wet, work great and equally smell good as described." – Richard L.
Specs
Specs
Scent: Peppermint Eucalyptus
Ingredients: Glycine Soja Soybean) Oil, Vitamin E Acetate, Passiflora Edulis (Passion Fruit) Seed Oil, Simmondsia Chinesensis (jojoba) seed oil, Olea Europea (olive) Fruit Oil, Pistacia Vera (Pistachio ) Seed Oil, PrinusAmygdalus Dulcis (Sweet Almond) Oil, CococNuferia (Cocnout) Oil, Mentha Piperita (Peppermint) Oil, Eucalyptus Citriodora Oil
Size: 4 fl.oz.
Body-safe oil blend
Aromatic
Hydrating & refreshing
Discreet packaging
Made in the USA, top quality ingredients
Manufacturer's 60-day warranty
Includes
1x Promescent Peppermint Eucalyptus Massage Oil (4 fl.oz)
Shipping
Ships to US
Expected Delivery: Aug 18 - Aug 22